| | | | | |
| --- | --- | --- | --- | --- |
| Package type | Vol (ml) | Price per bottle (€) | No. of bottles per box | Price per box (€) |
| Bottle | 250 | 30,16 | 6 | 180,96 |
| Bottle | 500 | 58,24 | 6 | 349,44 |
MONOCULTURE OLIVES: MAURINO VARIETY
PRESSING: cold
Company-owned presser that is designed and assembled by a company with the best machinery.
Mechanical Extraction using the farm's own Alfa Laval AO500 Top.
APPERANCE: Bright
COLOR: Green with golden nuances
SMELL: Oil from the bouquet with complex scents
TASTE: On the palate, it maintains a pleasant balance between bitter and spicy. With revealing tones of almond, artichoke, tomato and aromatic herbs that persist until the end.
Its recommended use
Food Pairings: bruschetta, marinade of red meats, goat cheeses, Greek salad, baked blue fish, baked chicken, Ischian rabbit, legume and cereal soups.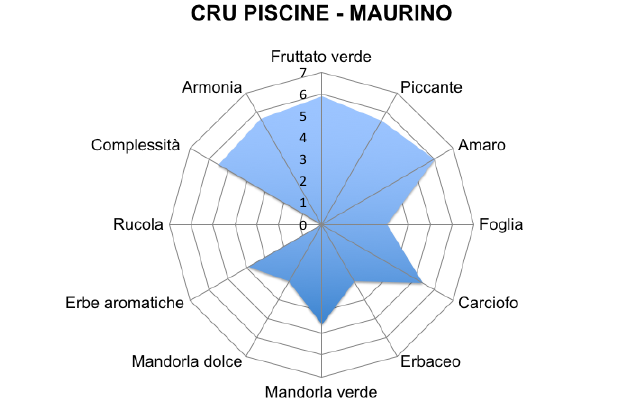 Organoleptic characteristics
Color: Green with golden hue.
On the nose, it is composed but decisive with evident recognitions of tomato leaves, grass clippings, chicory, crossed by fine aromatic notes of mint, bay leaf and just wilted white flowers.
This oil is harmonious on the palate. It has tones of rocket and tomato leaf that's prolonged into a bitter and spicy present and balanced.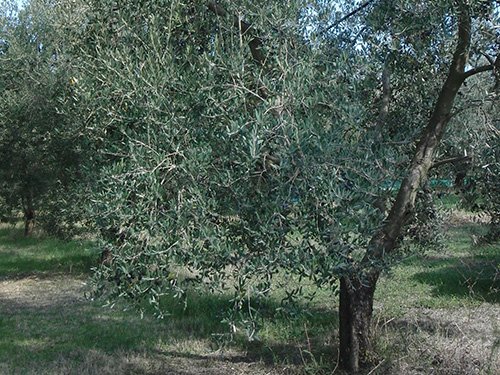 Where it is produced
This oil is produced from a small olive grove located in the locality of Piscine in the Municipality of Tessennano (Viterbo) in a south-facing valley with 28 plants of the Maurino variety over 40 years.
The soil is of volcanic origin and is particularly fertile, the pH is neutral and the cultivation layer is sandy-clayey.
Altitude: m 178 above sea level
Satellite Coordinates: 42,4233 N 11,7092 E
analytical features (is updating)
2
Name: Grand Cru 40 Rubbie
Variety: Maurino
Harvest date: october 3-4-5-6-7, 2022
Quantity produced: 489,6
Polyphenols (mg/kg): 737
Peroxides (meq 02/kg): 2,6
Acidity (g ac.oleico/100 g): 0,22
K232: 1,94
K268: 0,178
DELTA K: -0,007