| | | | | |
| --- | --- | --- | --- | --- |
| Package type | Vol (ml) | Price per bottle (€) | No. of bottles per box | Price per box (€) |
| Bottle | 250 | 16 | 6 | 96 |
| Bottle | 500 | 29 | 6 | 174 |
MONOCULTURE OLIVES: CANINESE VARIETY
PRESSING: cold
Company-owned crusher that is designed and assembled by a company with the best machinery. Mechanical Extraction
APPEARANCE: Bright
COLOR: Deep green
SMELL: On the nose, there are complex aromas that follow one another, from grass to almond. It remains harmoniously on the palate with a fruity vegetable that reinforces the personality of this oil in the mouth.
TASTE: In the aftertaste, the aroma of aromatic herbs can be felt towards the end.
Its recommended use Pairings: Polenta with meat sauce, cod in stew, Cacciucco alla Livornese, lentil puree, spun curd cheeses.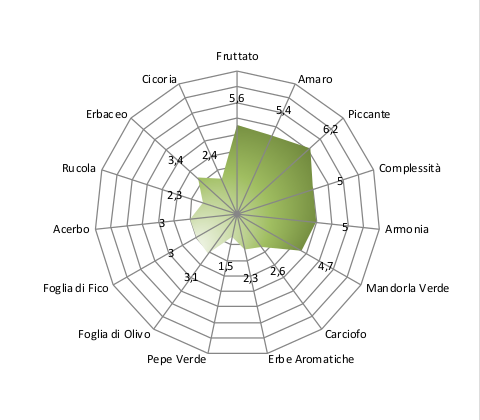 Organoleptic characteristics
Color: Deep Green.
On the nose, it expresses itself with elegance, rich in "green" scents reminiscent of almond, grass clippings and Granny Smith apples.
Balanced in the mouth it has herbaceous vegetal tones, rocket and peas.
Bitter and spicy are well expressed and balanced.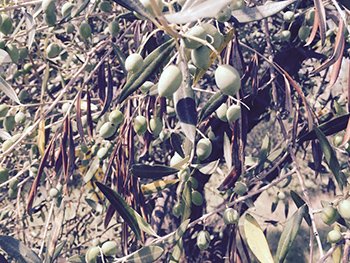 Where it is produced
Variety: Caninese
Olive grove: 90 olive trees in a small olive grove located in Riminino in the municipality of Canino (VT) in a plain with underlying thermal water.
Soil: soil of alluvial origin, the cultivation layer is sandy-clayey with a calcareous layer at a depth of 1.2 m.
Altitude: m 124 above sea level
Satellite Coordinates: 42.4543 11.7525
Name: Grand Cru 40 Rubbie CAN
Variety: Caninese
Harvest Date: 11-12/10/2022
Quantity produced: 270,1 L
Polyphenols (mg/kg): 524
Peroxides (meq 02/kg): 3
Acidity (g oleic acid/100 g): 0,17
K232: 1,75
K268: 0,133
DELTA K: -0,007