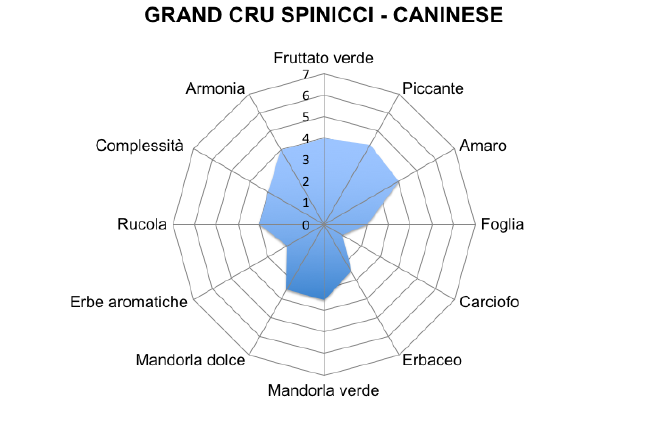 Organoleptic characteristics
Color: deep green.
On the nose, it expresses itself with elegance, rich in "green" scents reminiscent of almond, grass clippings and smith apple.
Balanced in the mouth, it has herbaceous vegetal tones, rocket and peas.
Bitter and spicy well expressed and balanced.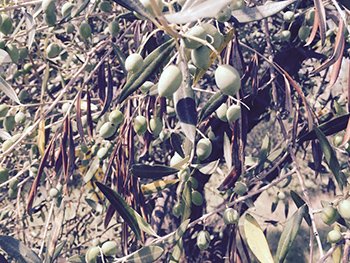 Where it is produced
This oil is produced from olives from a monoculture of Caninese variety olive trees, grown in a small olive grove, located on the farm owned (particella 45 – foglio 14) in
Spinicci locality
in Arlena di Castro (Viterbo). This oil comes from 75 olive trees over 60 years old. This parcel is slightly sloping with the olive trees aligned from west to east and facing east.
The soil is of volcanic origin and is particularly fertile, the pH is neutral and the cultivation layer is sandy-clayey; there is also a tufaceous outcrop of limited extension.
Altitude
: m 218slm
Satellite coordinates
: 42,4547 N 11,8000 E
analytical characteristics
2
<b>Name</b>: Grand Cru 40 Rubbie Caninese
<b>When it was collected</b>: 2-3-4/11/2021
<b>How much has been produced</b>: 365,30 L
<b>Polyphenols (mg/kg)</b>:592,94
<b>Peroxides (meq 02/kg)</b>: 5,12
<b>Acidity (g oleic acid/100 g)</b>: 0,24