THE BALANCE OF THE BEST ETRUSCAN CRUS
A Cru is the oil obtained from a single variety (mono-varietal) olive tree in a specific olive grove according to the practice invented in France for the great wines of Burgundy and Champagne. At I&P we produce mono-varietal oils from many varieties
olive groves.
In particular: the Caninese, Frantoio, Itrana, Leccino, Maurino, Pendolino, Rosciola. The Caninese variety is native to Tuscia, (from which we are dependent) and all the others are typical of the central area of the Etruscan civilization.
Every year from our Crus we choose those that together can produce a very balanced blend of aromas, flavors, spicy and bitter.
Hence the name Cru dei Cru. In this way we create an oil of great harmony suitable to underline the best characteristics of each dish.
Name: Cru dei Cru
Variety: Blend
Quantity produced: 2600
Polyphenols (mg/kg): 500
Peroxides (meq 02/kg): 3
Acidity (g oleic acid/100 g): 0,23
K232: 1,89
K268: 0,168
DELTA K: -0,003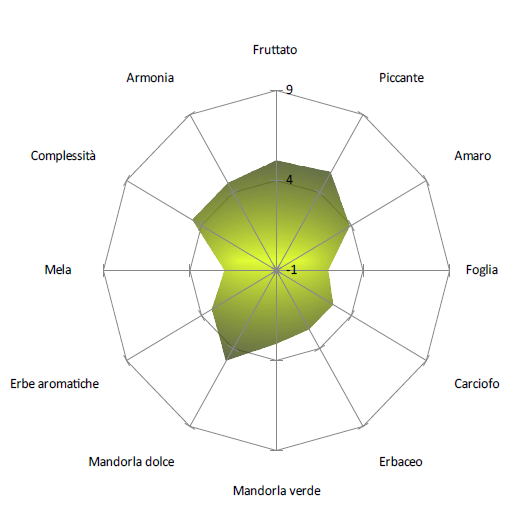 sensory analysis (is updating)
| | |
| --- | --- |
| Fruity | 5,1 |
| Spicy | 5,3 |
| Bitter | 3,9 |
| Leaf | 2 |
| Artichoke | 2,8 |
| Herbaceous | 2,8 |
| Green Almond | 3,1 |
| Sweet Almond | 4,8 |
| Aromatic Herbs | 3,3 |
| Apple | 2 |
| Complexity | 4,6 |
| Harmony | 4,6 |
| | | |
| --- | --- | --- |
|   | Defective median | 0,0 |
|   | Fruity median | 5,1 |
| | Median bitterness | 3,9 |
|   | Spicy median | 5,3 |
<strong>Quantity produced</strong>: 700
<b><strong>Polyphenols</strong> (mg/kg)</b>: 547,47
<b><strong>Peroxides</strong> (meq 02/kg)</b>: 4,94
<b><strong>Acidity (g oleic acid/100 g</strong>)</b>: 0,21
[/col] [/row]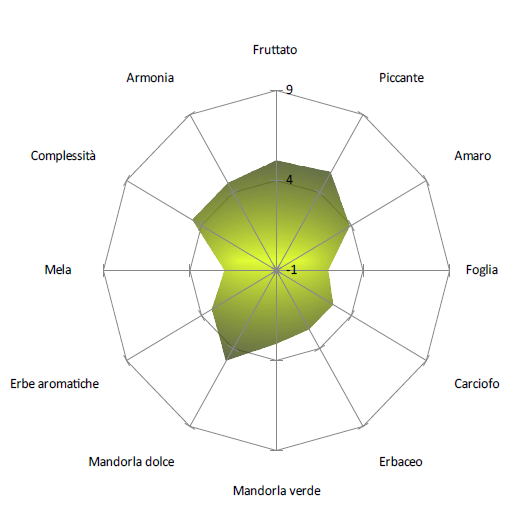 | | |
| --- | --- |
| Fruity | 5,1 |
| Spicy | 5,3 |
| Bitter | 3,9 |
| Leaf | 2 |
| Artichoke | 2,8 |
| Herbaceous | 2,8 |
| Green Almond | 3,1 |
| Sweet Almond | 4,8 |
| Aromatic Herbs | 3,3 |
| Apple | 2 |
| Complexity | 4,6 |
| Harmony | 4,6 |
| | | |
| --- | --- | --- |
|   | Defective median | 0,0 |
|   | Fruity median | 5,1 |
| | Median bitterness | 3,9 |
|   | Spicy median | 5,3 |