MONOCULTURE OLIVES: MAURINO VARIETY
PRESSING: cold
Company-owned presser that is designed and assembled by a company with the best machinery.
Mechanical Extraction using the farm's own Alfa Laval AO500 Top.
APPERANCE: Bright
COLOR: Green with golden nuances
SMELL: Oil from the bouquet with complex scents
TASTE: On the palate, it maintains a pleasant balance between bitter and spicy. With revealing tones of almond, artichoke, tomato and aromatic herbs that persist until the end.
Its recommended use
Food Pairings: bruschetta, marinade of red meats, goat cheeses, Greek salad, baked blue fish, baked chicken, Ischian rabbit, legume and cereal soups.
Where it is produced
Variety: Maurino
Olive grove: 95 olive trees in a small olive grove located in Riminino in the municipality of Canino (VT) in a plain with thermal water below.
Soil: soil of alluvial origin, the cultivation layer is sandy-clayey with a calcareous layer at a depth of 0.6 m.
Altitude: m 125 above sea level
Satellite Coordinates: 42.4547 11.6683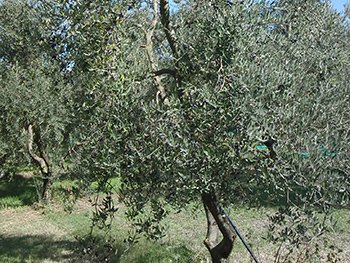 analytical features (is updating)
2
Name: Grand Cru 40 Rubbie
Variety: Maurino
Harvest date: october 3-4-5-6-7, 2023
Quantity produced: 489,6
Polyphenols (mg/kg): 737
Peroxides (meq 02/kg): 2,6
Acidity (g ac.oleico/100 g): 0,22
K232: 1,94
K268: 0,178
DELTA K: -0,007