| | | | | |
| --- | --- | --- | --- | --- |
| Package type | Vol (ml) | Price per bottle (€) | No. bottles per box | Price per box (€) |
| Bottle | 250 | 22,88 | 6 | 137,28 |
| Bottle | 500 | 42,64 | 6 | 255,84 |
MONOCOLTURE OLIVES CANINESE VARIETY
PRESSING: cold
Company-owned presser that is designed and assembled by a company with the best machinery.
Mechanical Extraction using the farm's own Alfa Laval AO500 Top.
APPERANCE: Bright
COLOR: Golden yellow with green reflections
SMELL: Quiet and delicate on the nose with slight hints of wood
TASTE: On the palate, it conveys its strength with bitter and explosive spiciness. Persistent aftertaste with assorted tones.
Its recommended use
Food Pairings: grilled cuttlefish, stewed crustaceans, cruciferous and pancetta soups, lentil puree, amberjack tartare.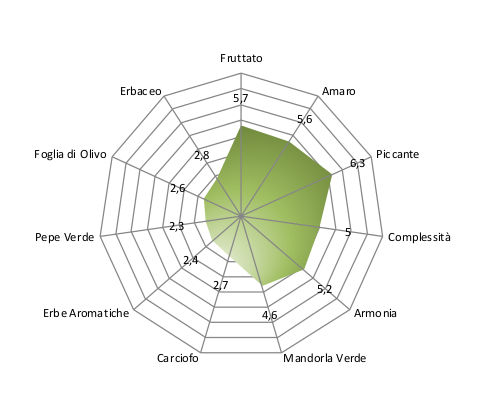 Organoleptic characteristics
Color: Golden yellow with green reflections.
On the nose, it immediately reveals clear sensations of cut grass, green and sweet almond, followed by hints of white flowers and royal apple.
The palate is marked by the combination of bitter and spicy notes, particularly noted by a pleasant aftertaste of aromatic herbs with tones of mint and royal apple.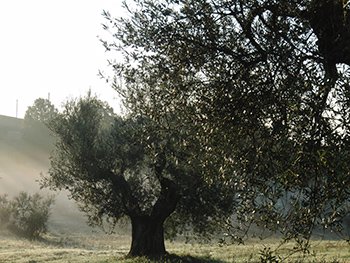 Where it is produced
This oil is produced from olives coming from the monoculture of young olive trees from the Caninese variety grown in a small olive grove, located in the farm in the locality of Giocchina in the Muncipality of Canino (Viterbo). This oil comes from 175 young olive trees planted in the year 2000 at the age of 2. This plot is declining and facing south.
The soil is of volcanic origin and particularly fertile. The pH is acidic and tends to be clayey.
Altitude: m 209 above sea level
Satellite coordinates: 42,4575 N 11,7516 E
analytical features (is updating)
2
Name: Grand Cru Gioacchina Iuvenis
Variety: Caninese
Harvest date: october 15-16, 2022
Quantity produced: 230,8
Polyphenols (mg/kg): 571
Peroxides (meq 02/kg): 3
Acidity (g ac.oleico/100 g): 0,21
K232: 1,79
K268: 0,144
DELTA K: -0,005