MONOCULTURE OLIVES: LECCINO VARIETY PRESSING: cold
Company-owned presser that is designed and assembled by a company with the best machinery.
Mechanical Extraction using the farm's own Alfa Laval AO500 Top.
APPEARANCE: Bright
COLOR: Golden with delicate green notes
SMELL: Delicate vegetal aromas that turn into artichoke
TASTE: On the palate, the oil expresses all its power between a perfect balance between bitter and spicy that allows the artichoke to extend beyond a long persistence.
Its recommended use
Food Pairings: marinated vegetables, ratatouille, asparagus puree, first courses with vegetables, boiled potatoes, cuttlefish carpaccio.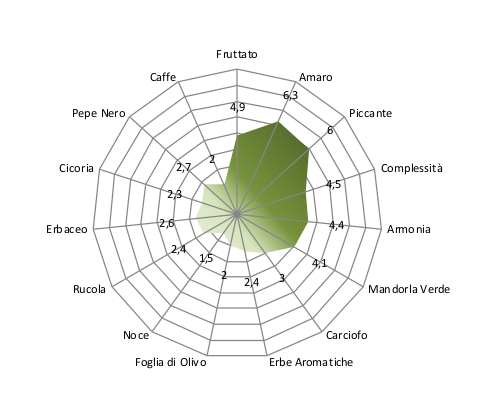 Organoleptic Characteristics
Color: Golden with delicate green tones.
On the nose, its delicate with hints of artichoke, green almond and rocket flanked by aromatic notes of rosemary, basil and tea leaves.
Gentle in the sensations of bitter and spicy, it's expressed with a pleasant aftertaste of artichoke and white pepper.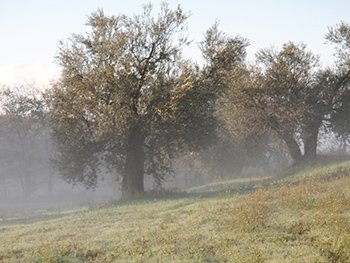 Where it is produced
This oil is produced from olives coming from young monoculture olive trees of the Leccino variety that's grown in a small olive grove located on the estate in the locality Gioacchina in the Municipality of Canino (Viterbo). This oil comes from 30 olives trees that are over 10 years old. This plot of land is elevated and facing east.
The soil is of volcanic origin and is particularly fertile. The pH is neutral, and the cultivation layers are sandy-clayey.
Altitude: m 209 above sea level
Satellite coordinates: 42,4575 N 11,7516 E
Name: Grand Cru Gioacchina LEC
Variety: Leccino
Harvest Date: 02/10/2023-04/10/2023-05/10/2023
Quantity produced: 327,51
Polyphenols (mg/kg): 601,31
Peroxides (meq 02/kg): 5,83
Acidity (g ac.oleico/100 g): 0,23
K232: 2,13
K270: 0,17
DELTA K: 0,000