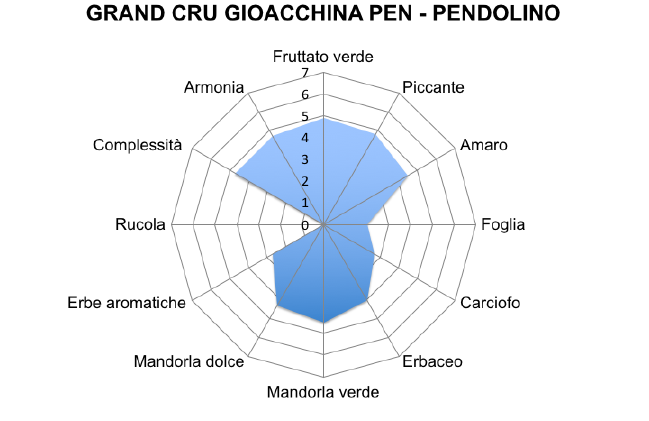 Organoleptic characteristics
Color: green gold.
Cohesive nose, characterized by notes of aromatic and medicinal herbs, with mint and rosemary in relief, flanked by tones of grass clippings, artichoke, green banana and unripe rennet apple.
On the palate, it is harmonious with hints of lettuce and aromatic returns at the end.
Slightly more pronounced bitter and spicy.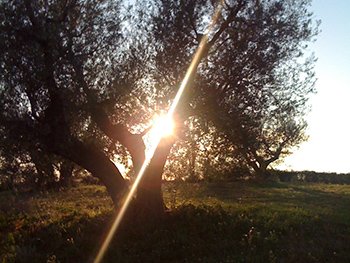 Where it is produced
This oil is produced from olives from a monoculture of 32 young olive trees of the Pendolino variety on the farm owned in
Gioacchina locality
(particelle 330, 331, 893 – foglio 34) in Canino (Viterbo). This particle is declining and facing east.
The soil is of volcanic origin and particularly fertile, the pH is neutral and the cultivation layer is sandy-clayey.
Height
: m 209 slm
Satellite coordinates
: 42,4575 N 11,7516 E
analytical characteristics
2
<strong>Name</strong>: Grand Cru Gioacchina Pen
<strong>Variety</strong>: Pendolino
<strong>When it was collected</strong>: 4-6-9/10/2020
<strong>How much has been produced</strong>: 97,2
<strong>Polyphenols (mg/kg)</strong>: 543,35
<strong>Peroxides (meq 02/kg)</strong>: 6,13
<strong>Acidity (g oleic acid/100 g)</strong>: 0,19
<strong>K232</strong>: 1,68
<strong>K270</strong>: 0,14
<strong>DELTA K</strong>: 0,00