| | | | | |
| --- | --- | --- | --- | --- |
| Package type | Vol (ml) | Price per bottle (€) | No. of bottles per box | Price per box (€) |
| Bottle | 250 | 40,56 | 6 | 243,36 |
MONOCULTURE OLIVES: PENDOLINO VARIETY

PRESSING: cold
Company-owned presser that is designed and assembled by a company with the best machinery. Mechanical Extraction using the farm's own Alfa Laval AO500 Top.
APPERANCE: Bright
COLOR: Green gold
SMELL: A grand oil that is pleasant, fragrant and harmonious to the nose even though it imposes its personality from the fresh almond.
TASTE: This game of aromas remains on the palate with a strong balance between bitter and spicy but remains sweet and long quenching.
Its recommended use
Food Pairings: lentil appetizers, baked porcini mushrooms, spinach salads, stewed Treviso radicchio, meat and vegetable couscous, medium-aged cheeses.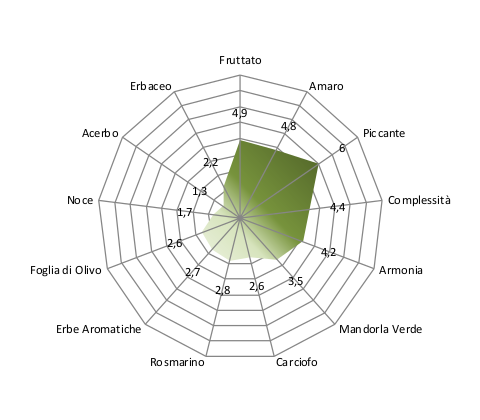 Organoleptic characteristics
Color: Green gold.
A cohesive aroma characterized by notes of aromatic and medicinal herbs with mint and rosemary in relief. It's flanked by tones of grass clippings, artichoke, green banana and unripe rennet apple.
On the palate, it is harmonious with notes of lettuce and aromatic returns at the end. It tends to bitter and the spiciness slightly more pronounced.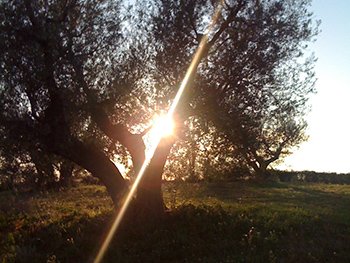 Where it is produced
This oil is produced from olives from a monoculture of 32 young olive trees of the Pendolino variety on the farm owned in Gioacchina in the Municipality of Canino (Viterbo). This plot is declining and facing east.
The soil is of volcanic origin and is particularly fertile, the pH is neutral and the cultivation layer is sandy-clayey.
Altitude: m 209 above sea level
Satellite coordinates: 42,4575 N 11,7516 E
analytical features (is updating)
2
Name: Grand Cru Gioacchina Pen
Variety: Pendolino
Harvest date: october 7-8, 2022
Quantity produced: 169,8
Polyphenols (mg/kg): 696
Peroxides (meq 02/kg): 3,3
Acidity (g ac.oleico/100 g): 0,2
K232: 1,94
K268: 0,162
DELTA K: -0,005