| | | | | |
| --- | --- | --- | --- | --- |
| Package type | Vol (ml) | Price per bottle (€) | No. of bottles per box | Price per box (€) |
| Bottle | 250 | 16 | 6 | 96 |
MONOCULTURE OLIVES: CANINESE VARIETY
PRESSING: cold
Company-owned crusher that is designed and assembled by a company with the best machinery. Mechanical Extraction using the farm's own Alfa Laval AO500 Top.
APPEARANCE: Bright
COLOR: Intense green crossed with golden shades
SMELL: On the nose, there are strong hints of green almond accompanied by herbaceous hints.
TASTE: The taste is pleasantly caressed by a perfect balance of bitterness and spiciness that slowly extinguishes over time.
Its recommended use
Pairings: First courses with shellfish; lasagna with carasau bread, aubergines and goats' cheese; barley, pumpkin and sausage soup; grilled pumpkin salads, hazelnuts and bacon, roasted rabbit; roast beef, risotto with radicchio and medium aged cheeses.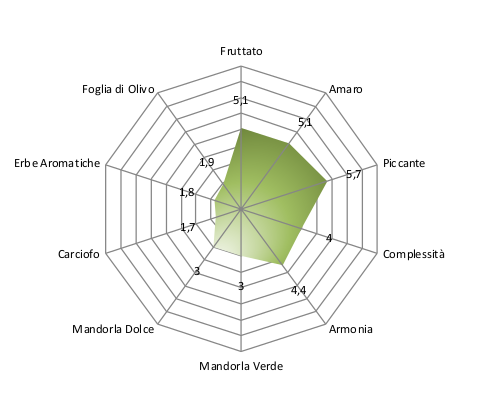 Organoleptic characteristics
Color: Intense green crossed with golden shades.
The nose opens decisively with the prevalence of green almond followed by a vegetable set. It's crossed with a fine spiciness of cinnamon and vanilla pod.
The decisive bitterness slightly dominates the spicy.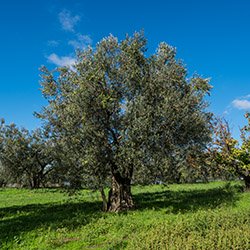 Where it's produced
The oil is produced from monoculture olives of the Caninese variety that are grown in a small olive grove located in Morone; the Muncipality of Bolensa (Viterbo). This oil comes from 16 olives tree that are over 70 years old. This plot is flat on a hill. The soil is of volcanic origin and is particularly fertile. The soil is mainly vegetal on a substrate of volcanic stone rocks (nenfro); always of tufaceous nature but much safer and more compact than tuff (used by the Etruscans for architectural and funerary works.)
Altitude: m 299 above sea level
Satellite co-ordinates: 42,4762 N 11,7979 E
Name: Grand Cru Monte Freddo
Variety: Caninese
Harvest Date: 13/10/2021
Quantity produced: 97,93
Polyphenols (mg/kg): 548,34
Peroxides (meq 02/kg): 5,39
Acidity (g oleic acid/100 g): 0,24
K232: 2,15
K270: 0,16
DELTA K: 0,00