| | | | | |
| --- | --- | --- | --- | --- |
| Package type | Vol (ml) | Price per bottle (€) | No. of bottles per box | Price per box (€) |
| Bottle | 250 | 16 | 6 | 96 |
| Bottle | 500 | 29 | 6 | 174 |
MONOCULTURE OLIVES: CANINESE VARIETY
PRESSING: cold
Company-owned presser that is designed and assembled by a company with the best machinery. Mechanical Extraction using the farm's own Alfa Laval AO500 Top.
APPEARANCE: Bright
COLOR: Intense green with slight golden reflections.
SMELL: On the nose, there are sincere scents of sweet almond without odorous swirls.
TASTE: On the palate, bitter and spiciness take over in the beginning and then fade away in whirlwind of complex flavors that remain over time.
Its recommended use Food Pairings: baked rabbit, barley soup, grilled poultry, pasta with white sauce, baked blue fish, beetroot soups.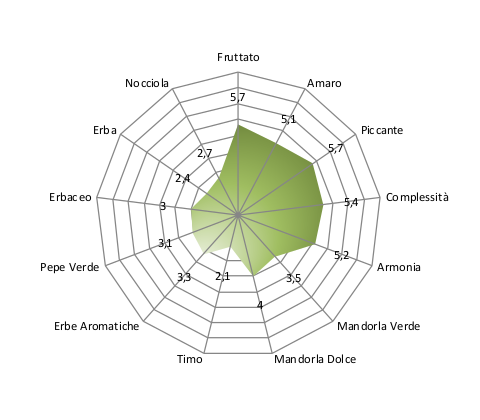 Organoleptic characteristics
Color: Intense Green with slight golden reflections.
This oil is of a medium intensity. It has vegetal notes of field grass and green almond, followed by a light floral texture of Jasmin and a fine spiciness like white pepper.
On the palate, it can be characterized by a slight prevalence of spicy bitterness with clear hints of lettuce, celery and dehydrated apple.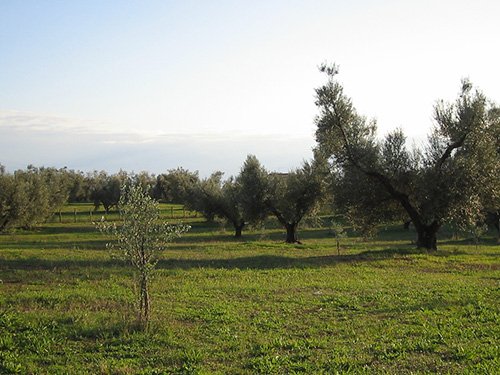 Where it is produced
This oil is produced from monoculture olives from centuries old Caninese variety olive trees that are grown in an olive grove located on the estate in Musignano in the Municipality of Canino (Viterbo). This oil comes from 62 olive trees over 100 years old. This plot is elevated and exposed to the southwest.
The soil is of volcanic origin and is particularly fertile and the pH is acidic and tends to be quite clayey.
Altitude: m 104 above sea level
Satellite coordinates: 42,4233 N 11,7092 E
analytical features (is updating)
2
Name: Grand Cru Musignano
Variety: Caninese
Harvest Date: 08/10/2021-09/10/2021-10/10/2021
Quantity produced:705,46 L
Polyphenols (mg/kg): 523,60
Peroxides (meq 02/kg): 4,76
Acidity (g oleic acid/100 g): 0,23
K232: 2,07
K270: 0,17
DELTA K: 0,00