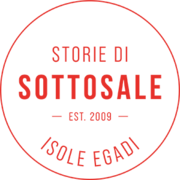 Twenty meters from the "struscio" of Favignana, in a charming alleyway in the historic center with a small outdoor area and two interior rooms furnished with great taste and with references to the sea.
Everything is very neat, with the touch of a book of great literature on the table under the inevitable candle and a small sparkling glass crystal.
The menu content is basically dedicated to the sea, even if there are land dishes. It has a clear orientation to the use of Japanese techniques and oriental flavors to interpret local raw materials in an original way. I remember a large fried shrimp with panko and an interesting sauce with oriental spices, a sea garden with land and sea vegetables, an exceptional tuna belly cooked perfectly with Asian-flavored sauces.
Flawless execution with great attention to detail.
The wine list, very well presented, allows you to choose between excellent Sicilian wines and beyond.
Impeccable and discreet service.
The attention to pleasure mixed with a search for unusual combinations makes it the typical Pleasure House (50%) that goes with the House of Wonders (50%)