Name
OSTERIA IL MORO
Street Address

Via Garibaldi, 86 91100 Trapani (TP)
Phone
+39 0923 23194
Email Address

info@osteriailmoro.it
Website
Date of evaluation
February 19, 2021
Evaluator
Paolo Borzatta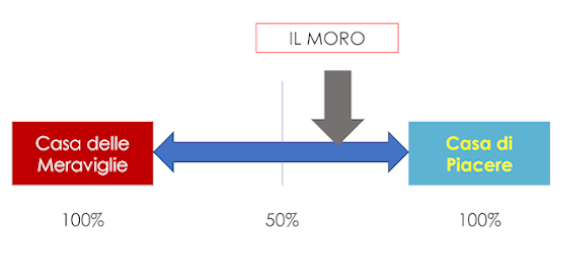 You find this restaurant in a charming street in the historic center with large buildings from various eras. It's located in an ancient building with two large and bright rooms with the typical Trapani barrel vault with ribs. This room opens up, limiting the seats to 35.
The environment is well-finished, bright and pleasant with classy elements such as upholstered armchairs.
The menu is quite extensive with a lot of sea, but also land. A strong attention to the Trapanese tradition often reinterpreted with decomposition, but without falling into the excesses of molecular cuisine. Great attention to raw materials. We remember an incredible amuse bouche that reinterprets the cunzato bread, Trapanese style with the bread reduced to a crust. Then a cuttlefish alla "Trapanisa" reduced to a film that wraps all the other ingredients. Or the Nebrodi lasagna with two types of pasta almost like an open ravioli. Also, the tortelli with ricotta scampi with the air of lemon (foam) which gives a touch of great refinement.
Finally, the final small pastry is amazing, accompanied by an excellent coffee.
Flawless execution with some technical virtuosity.
The wine list is very rich and very well presented helps you choose the right complement to a meal that easily reaches orgasm.
Impeccable service, discreet, but always empathetic.
Thus, a great House of Pleasure (70%) with a nice component of House of Wonders (30%).